If your Uconnect head unit is currently running software version 16.50.xx or newer, you will need Jailbreaker Jigsaw to be able to install this product. You can check your currently installed software version under "system information" in the "options" menu.
It's back!! Customtronix ICOS RAX-Jailbreak for select vehicles (see list below) for model year 2013-2017. Check our Youtube for more info.
This product makes it possible to add front/cargo/reverse cameras and media players etc. to vehicles that do not come equipped with these from factory.
All features are possible to uninstall and reinstall at will by the user via USB, in order to tailor the product to suit your needs. It is also possible to return the Uconnect to stock software with a simple USB install.
Leave your software version in the text-box when placing the order along with your VIN. Orders placed without VIN-number and current software version can not be processed, causing delays until all information is submitted.
This product is compatible with vehicles equipped with 8.4-inch monitors ONLY!!
Features:
Possibillity to install custom maps for any region
Lockout disable
Front cam feature enable
Rev cam feature enable
Cargo cam feature enable
Force front cam feature
Force cargo cam feature
Force Rev cam Feature

FrontView (auto transmission vehicles only)

ParkPro (auto transmission vehicles only)

RAX cable harness for Plug & play (ships via FedEx)
Cameras and other peripherals are sold separately!!
No automatic functions (frontview and parkpro) will work in vehicles with manual transmission!! Only manual activation of video inputs are available in vehicles with manual transmission!
Lockout disable will let the passenger enter addresses while the vehicle is in motion. (Please drive safely...)
Rev Cam Reroute - Dodge RAM, model year 2013-2015 equipped with cargo camera from factory is displaying the rev camera in the rear view-mirror. The rev cam video signal can be rerouted to the Uconnect 8.4"-monitor instead, but this will use one of your available video inputs. We will include a video cable for this for free with your order, if you inform us that you want one during the ordering process. This cable has to be soldered in place.
Rev cam – The rev cam will power off automatically at 5 mph! This is controlled by a LIN-bus that we can not control. You can cut the LIN-bus wire to enable the rev cam at all speeds, but the active guide lines will be lost in the process.
This product works with the 8.4-inch version of Uconnect found in the following vehicle and year models:
RAM 2013-2017
Dodge Viper 2013-2017
Dodge Durango 2014-2017
Dodge Charger 2015-2017*
Dodge Challenger 2015-2017*
Jeep Grand Cherokee 2014-2017
Chrysler 300C 2015-2017*
* = Some of the 2017 models marked with a * are equipped with an updated version of Uconnect that is not compatible with Rax Jailbreaker. Please consider Jailbreaker Enzo for these vehicles.
We need to know:
The VIN-number for the vehicle you intend to upgrade.
Is your car an SRT-car?
Do you have video entertainment system installed (VES)?
Do you have reverse cam from factory?
Do you have cargo cam installed from factory?
We need to know these things to create the correct software for your upgrade. First list the VIN-number then any other info for each VIN number. after or underneath, clearly indicating to what VIN number the specification belongs.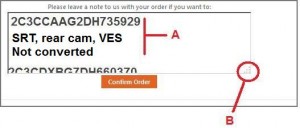 Type the VIN numbers of the cars whose navigation systems would like to convert in field (A). If you need more space, enlarge the message box by dragging the corner of the box (B)
Dealer?? Create a dealer account to view dealer prices!!
European customers: Some navigation radios not modified by us have the update feature disabled. These radios have to be shipped to us to be installed manually, shipping costs apply.
Go to: www.driveuconnect.com and find out what type of radio you have. Chrysler have several Look-alike-radios. Only radios below can use our RAX Jailbreak or conversion software.
Following designation codes will accept RAX Jailbreak software:
VP4 ROW RJ4 (Rest Of the World / Export)
VP3 ROW RJ3
VP4 NA RA4 (USA)
VP3 NA RA3
VP4 CA RX4 (Canada)
VP3 CA RX3
VP4 MX RX4 (Mexico)
VP3 MX RX3
VP3 EU RG3 (Europe)
VP4 EU (RG4)