Customtronix ICOS RAX conversion converts the 2017-2023 Panasonic Uconnect navigation with 8.4-inch screen from other regions (ROW/NA/MX/CA) into EU standard. Our standard conversion enables you to use map databases of Europe and parts of Russia. As well as EU-style even decimal FM-radio frequencies. At this point, DAB is not available as an option in these cars as they are not equipped with a DAB receiver. The radio have to be sent to us in SWEDEN.
This conversion service is for Panasonic Uconnect units that does not come with navigation from factory. The units need to be sent to us for conversion and will be returned to you ready to use. After conversion, your unit will be accepting USB-sticks with updates that you receive from us upon request. No need to send your unit back to us for software updates. We upgrade the memory in your unit so it can install the EU-map database. Don't mix this up with inferior conversions that require you to run maps from a USB-stick. This conversion upgrades your Uconnect to be EXACT same as a Uconnect that was delivered from factory with navigation.
This service covers Uconnect units produced by Panasonic ONLY! Uconnect units produced by Delphi are not equipped with GPS receivers and can NOT be converted!! (See photos).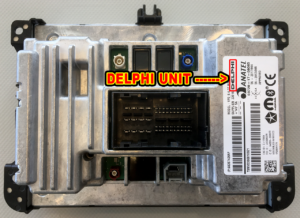 The Panasonic units come in 2017 Dodge Challenger and Charger, as well as Chrysler 300. Most 2018-2023 Dodge/Chrysler/Jeep/RAM vehicles come with Panasonic units, if the monitor is 8.4 inches. Some 2019-2023 model head units that do not support navigation are produced by Delphi instead of Panasonic. These can not be converted, as they are not equipped with a GPS-receiver. This service is not available for Chrysler Pacifica at this time!
Please don't forget to include the VIN-numbers of the vehicles you intend to convert in the free text field as you place your order to avoid delays. The VIN number for every vehicle is needed to create your unique license file and no order can be processed without it.
Questions? Send us a mail along with your VIN, or a photo of the main screen of your Uconnect and we'll find out what your vehicle is equipped with.